DVConnect CEO to convene QDVSN
Beck O'Connor, CEO of DVConnect has been appointed Convenor of the Queensland Domestic Violence Services Network (QDVSN).
QDVSN is one of several domestic and family violence agency networks operating in Queensland. The Network provides peer support, information exchange, lobbying and coordination of the annual candle lighting vigil to remember lives lost to domestic and family violence.
Beck O'Connor's appointment comes after Rosie O'Malley, CEO of the Domestic Violence Prevention Centre, stepped down from her role after two years. During her time as Convenor, Rosie demonstrated strong leadership, making QDVSN the change agent that it is today.
On the future of QDVSN, Beck O'Connor said, "I am looking forward to continuing to enhance the collaboration of our network and representing QDVSN in a way that our members are proud of. I also want to acknowledge the place we are at today with QDVSN which would not have been possible without the dedication of my predecessor, Rosie O'Malley and the incredible women who came before her."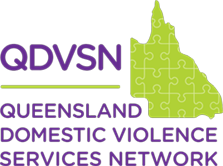 Beck O'Connor will Chair QDVSN alongside new Co-Chair, Sandy Keogh, CEO of Cairns Regional Domestic Violence Service. Stacey Ross, CEO of The Centre for Women & Co will remain QDVSN Secretariat.
QDVSN is a network of 19 Queensland regional domestic violence services and the Queensland Centre for Domestic and Family Violence Research, the Immigrant Women's Support Service and DVConnect.
QDVSN works collaboratively and strategically to:
Advance understanding of, and to eliminate gender, structural, political, economic, legal and cultural inequalities and inequities, which result in gender-based violence in all its forms;
Provide peer support, information sharing and debriefing within our membership;
Be a change agent by providing education, a reference point and a collective voice to Government, non-government and member services on State and National issues relating to domestic and family violence.
Find out more about QDVSN and its members here.